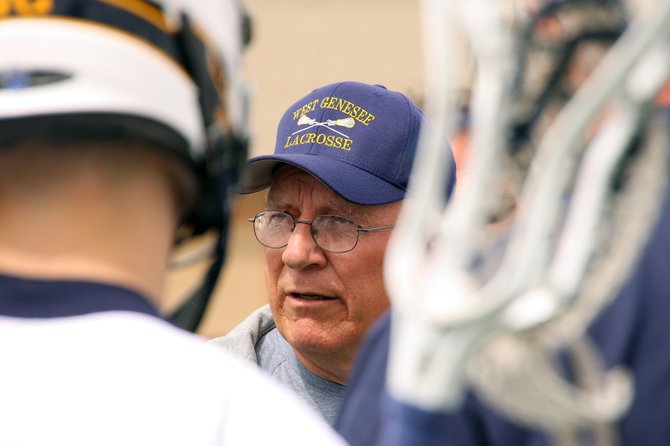 Camillus — Look out Joe Cuozzo: Mike Messere is coming for you.
Cuozzo, former Ward Melville High School's longtime lacrosse coach, has the all-time wins mark for a lacrosse coach in the country with 747. Mike Messere, a retired physical education teacher and West Genesee's lacrosse coach for the last 37 years, notched his 744th victory Friday, April 13, with a win over Baldwinsville. That was followed-up with a victory over Loyola Academy, 8-3, the next day, putting Messere two Ws away from tying the record.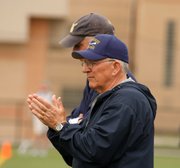 His team is 6-0 on the season. If the Wildcats continue winning, Messere will tie Cuozzo on Thursday, when his team hosts Oswego at home on the turf in a 7:30 p.m. showdown. If all that falls into place, he has a chance to take sole possession of the record on Saturday at Jamesville-DeWitt, which recently had its 46-game win streak stopped by Section II powerhouse Niskayuna.
That's a lot of 'ifs,' but with the way his team is playing this season, it's a distinct possibility Messere will get the career-defining victory over a rival Section III team who has a decent history against the Wildcats.
Messere claims he doesn't think too much or put any emphasis on the record. He did, however, take a humorous jab at the media during a lengthy interview with Eagle Newspapers.
"I try not to think about it, but I keep getting calls from guys like you wanting to know what I think about it," he said with the laugh of a 68-year-old man. "Honestly, all I think about is the next game. That's all you are working toward, the next time out. But if a record happens, it happens."
His career began, fittingly enough, as a player at West Genny in 1962. He was a football player and wrestler, but after seeing some neighborhood friends play a game of lacrosse, he was sold.
(Continued on Next Page)
Prev Next
Vote on this Story by clicking on the Icon