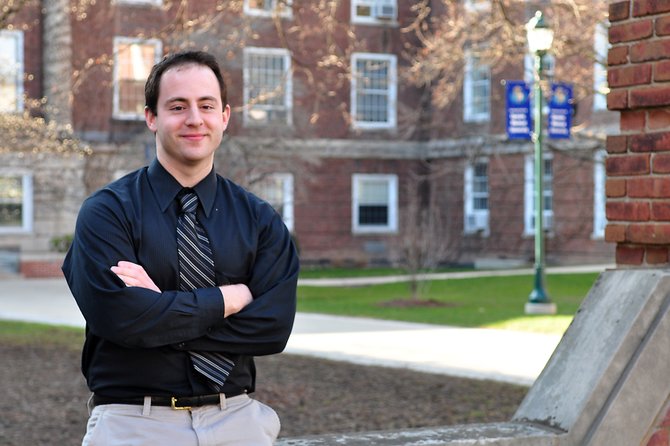 Camillus — Sam A. Schueler, a third-year medical student at Upstate Medical University, has been named a recipient of the American Medical Association Foundation's 2012 Leadership Award. This award provides medical students, residents/fellows and early career physicians from around the country with special training to develop their skills as future leaders in organized medicine and community affairs.
Schueler is the son of Gary and Azadeh Schueler of Camillus. He is a 2005 graduate of West Genesee High School and earned his bachelor's degree from Cornell University in 2009.
The AMA Foundation honored 30 individuals with Leadership Awards at its annual Excellence in Medicine Awards ceremony, which was presented in association with Pfizer Inc on February 13, 2012 in Washington D.C. Recipients of the award are recognized for demonstrating outstanding non-clinical leadership skills in advocacy, community service and education.
AMA Foundation President Dr. Owen Garrick presided over the awards ceremony and praised the Leadership Award recipients.
"These dedicated medical students, residents and physicians are deeply committed to transforming their communities and improving the health of their neighbors," he said. "Our hope is that celebrating the efforts of these medical leaders will inspire us all to give back to our communities, as they have done."
Schueler says he's interested in learning about the role a physician can play in health policy and advocacy for populations with low socioeconomic status. He currently serves as the president of Upstate's Student Government. He also co-founded the student magazine "Upstate of Mind."
Schueler previously served as the president of Community Outreach and Preventive Education, a student group that provides mentoring and health education to disadvantaged youth in Syracuse. He sits on various committees aimed at improving student life at Upstate, and coached his little sister's soccer team during his first two years of medical school.
Susan Stearns, PhD, assistant dean of student affairs, who serves as Scheuler's adviser, is not surprised the AMA honored Sam.
"Sam is a campus leader in many ways. He's trusting, thorough, inclusive in his leadership style and excels in the areas of advocacy, community service and education, which the Leadership Award recognizes," Stearns said. "Sam also has an extreme fondness for this institution and this community. Upstate is thrilled that he has been recognized by this national organization."
The AMA Foundation is a tax-exempt foundation with a goal of improving the health of Americans through philanthropic support of quality programs in public health and medical education.
Vote on this Story by clicking on the Icon