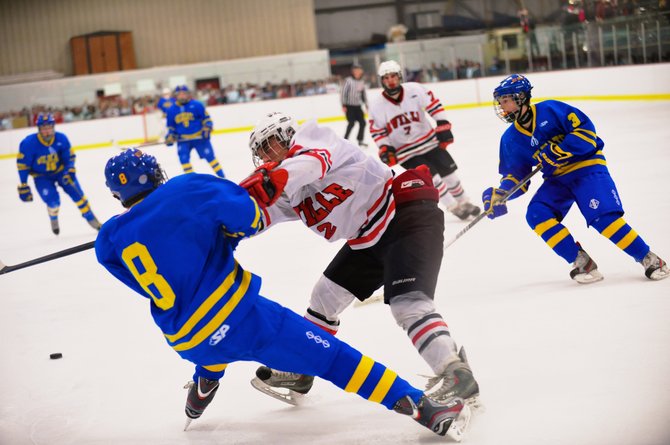 Baldwinsville — With quick and ruthless efficiency, the West Genesee ice hockey team continues to turn away Division I challengers, even on the road.
The Wildcats shut out Baldwinsville, 3-0, Friday night in front of a big crowd at the Greater Baldwinsville Ice Arena in Lysander.
David Procopio scored twice, and Wildcat goalie Henry Burns stopped 20 shots he faced to lift WG to 5-1 overall, and 4-0 in league play. The Bees fell to 2-3-1, and 1-2-1.
Procopio's first goal, a superb solo effort that saw him bust through the Baldwinsville back line, set the tone. It came just 27 seconds after the opening face-off.
"It was huge," Wildcat coach Frank Colabufo said. "David took it to the net hard. It kind of deflated this crowd. Had (Baldwinsville) got the first goal it might have been different."
Bees coach Mark Lloyd would like to have experienced the difference. A boisterous crowd, amped up by the B'ville pep band, was stunned into silence by Procopio's opener.
"That first one was awful tough," Lloyd said. "There's a lot of energy, a lot of enthusiasm (and) a lot of excitement. The wind went out of our sails. We were back on our heels right off the bat."
The visitors had no intention of allowing the crowd to find its voice, scoring again just over five minutes later. Freshman wing Ryan McDonald completed a nice sequence of passes with a wrist shot goal at the 5:32mark. Derek Farrell and James Shepherd collected assists.
It was an opening 15 minutes to forget for the hosts.
"(In) the first period we didn't show up," Lloyd said. "Maybe we were a little awestruck by the crowd and the big stage. (West Genesee) wasn't. They took it to us. The first period was the difference in the game."
The middle stanza featured another Procopio goal and some fine goaltending by Burns. Procopio was the first to pounce on a loose puck in front of the Baldwinsville net and sent a short shot home at the 8:01 mark. Burns stopped a clean breakaway minutes before stoning a Bees penalty shot.
"(Procopio) is emerging now. He's a great defensive center," Colabufo said. "And now David's starting to contribute offensively.
"(Burns) knows we are very, very young. We're still learning to score goals," Colabufo said. "Henry understands that his job is to keep us in the game, and he's doing that."
B'ville goalie Nick Harper finished with 25 saves. Harper and the Bees return to the ice Tuesday to host Liverpool at 7 p.m.
West Genesee returns to its Shove Park home on Wednesday. The Wildcats welcome the Syracuse Cougars at 7:30 p.m.
Vote on this Story by clicking on the Icon