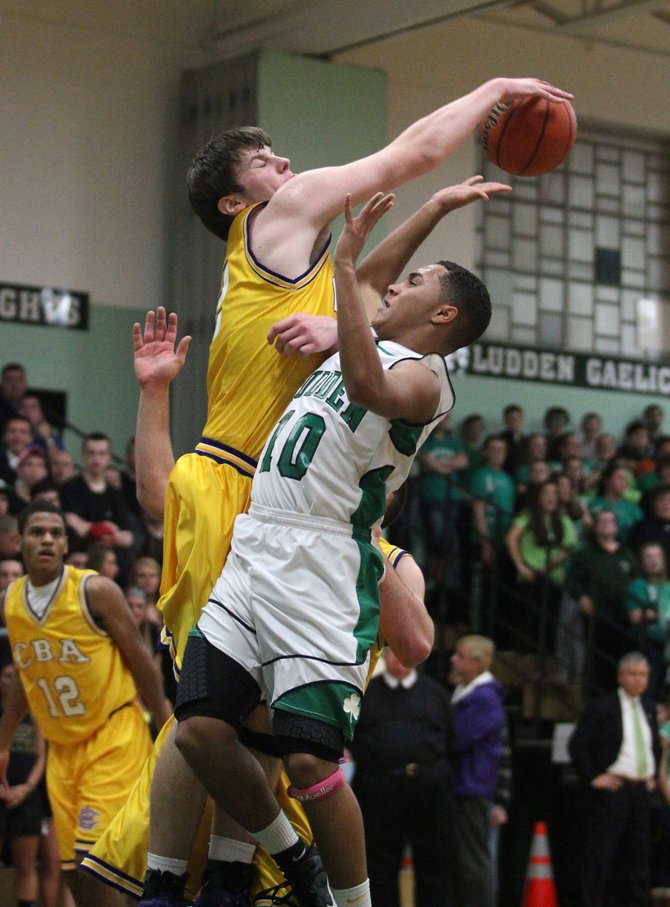 Seven long seasons of frustration for Bishop Ludden in its boys basketball rivalry against Christian Brothers Academy are at an end.
For the first time since 2005, the Gaelic Knights emerged victorious in the "Holy War", needing a late surge to shake off the pesky Brothers and prevail 52-41 Friday night in front of a loud, overflow crowd in the Ludden gym.
"CBA is very physical, and they out-toughed us most of the game," said Ludden head coach Pat Donnelly. "But we made the plays when we had to."
Never mind that the reigning state Class B champions were favored against a 1-2 CBA side coming off back-to-back losses to Henninger and East Syracuse-Minoa.
When the final buzzer sounded, Ludden's entire student section spilled out onto the court to join the players and celebrate a win, the first by the Gaelic Knights in this half-century-old series since it ended the high school career of Greg Paulus in the 2005 sectional playoffs.
It was as much a night filled with emotion that went beyond the usual Ludden-CBA parameters. A pre-game prayer mentioned the school shooting tragedy in Connecticut earlier in the day.
And like the first game between the two schools on Nov. 22, 1963, played hours after the assassination of President John F. Kennedy, this one served as an escape from the grief, with all the usual signs, chants and cheers from loud student sections from Ludden and CBA.
What they saw was the Gaelic Knights threatening to run away in the first three minutes, bolting out to an 11-2 lead as Dan Kaigler scored seven quick points.
By the time CBA cut the margin to 15-12 at the end of the first quarter, though, it was clear that the Brothers were going to make the Gaelic Knights work all 32 minutes.
(Continued on Next Page)
Prev Next
Vote on this Story by clicking on the Icon