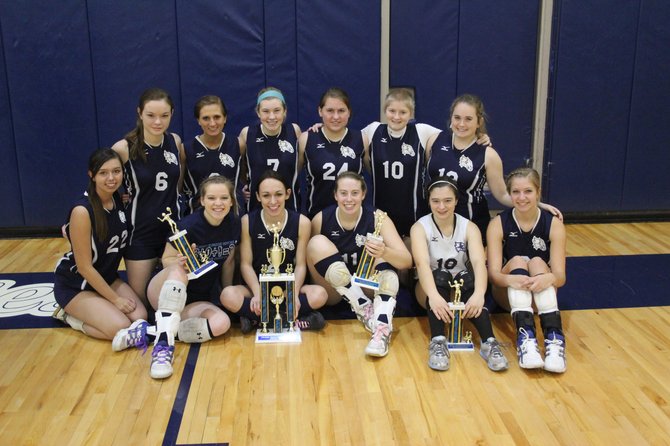 Jordan — Giving home fans something to cheer about, the Jordan-Elbridge girls volleyball team roared past three different opponents and claimed first place in its annual holiday volleyball tournament held Friday at the J-E gymnasium.
The Eagles opposed Weedsport, Port Byron and Hannibal. J-E had its toughest outing against Port Byron, but pulled out both sets by scores of 25-21 and 25-22.
It was also difficult against Weedsport – at least in the second set, where the Eagles squeaked out a 25-23 decision, but that came after a 25-14 romp in the first set. And Hannibal was easy to push aside, J-E taking those sets by margins of 25-5 and 25-13.
Kali Kimak was selected tournament MVP. In the six sets, Kimak piled up 21 kills, 13 aces and 13 digs to lead the Eagles' efforts.
Olivia Simmons and Brienna Fabrize joined Kimak on the All-Tournament team. Simmons notched 22 assists, 11 aces, five digs and four kills, with Fabrize, the Eagles' libero, working hard on the defensive side as she recorded nine digs.
Ashley Wixson had six kills, with Samantha Ryan managing five kills. Mackenzie Mannion and Melissa Perkins earned four kills apiece as Cassidy Fletcher stepped up with 12 assists and four aces. Ashley Hamlin added three blocks and two kills.
Weedsport teammates Samantha Bunce and Amber Bocain, along with Port Byron's Kaylee Quanbeck and Hannibal's Erica Weldin, rounded out the All-Tournament team.
Vote on this Story by clicking on the Icon