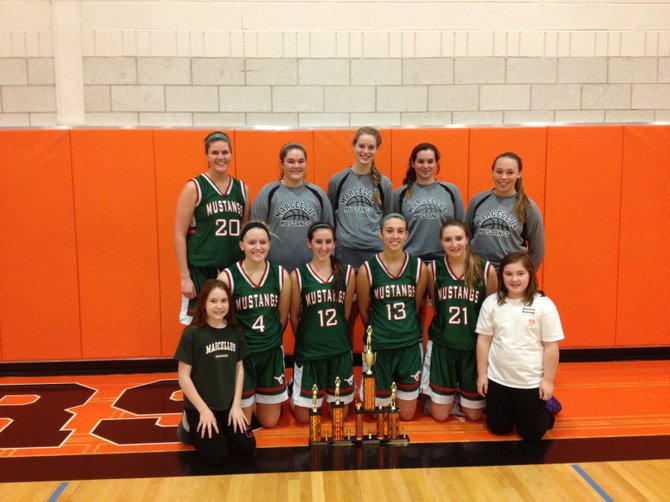 The holiday-tournament circuit proved lucrative for both Marcellus and Solvay, who both won their respective events around various winter snowstorms.
Already with a 4-1 record, the Mustangs ventured to the Mexico Tournament, where in Friday's opening round it put together a superb offensive effort against Carthage and prevailed over the Comets 70-51.
Eager to get going after the snow delay, Marcellus gradually took control in the early stages and used a 20-9 run in the second quarter to gain a 40-23 halftime edge.
In particular, Molly MacLachlan had a hot hand, roaring her way to a career-best 24 points that included a trio of 3-pointers that prevented the Comets from any sort of late rally.
Carthage could not focus on MacLachlan because three other Mustangs hit double figures – Lauren Soule with 12 points, Nicole Wynne with 11 points and Meghan Witkowski with 10 points. Tessa Mosher contributed seven points.
Marcellus now went to Saturday's title game to face host Mexico, who beat Phoenix 48-34 in the other half of the opening round.
This game proved the exact opposite of what took place against Carthage, as the Mustangs saw its point total cut in half, but still earned a 35-28 decision over the Tigers.
A fast-paced first quarter, where Marcellus inched in front 14-13, was followed by a long slump that hit both teams for the rest of the half. The difference was that Mexico stayed cold in the third quarter, partly due to poor shooting and partly due to strong defense applied from the Mustangs.
Thus, Marcellus took a 29-21 lead to the fourth quarter and held on from there, led by Soule, who had nearly half her team's output with 16 points on her way to MVP honors.
No one else on either side scored in double figures, and no other Mustang player had more than two field goals. Still, MacLachlan and Wynne, with their fine all-around play through the two games, earned All-Tournament honors.
(Continued on Next Page)
Prev Next
Vote on this Story by clicking on the Icon