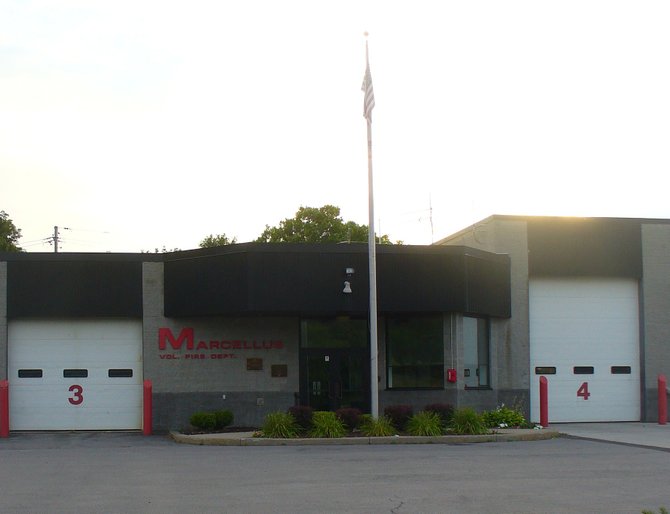 Marcellus — The Marcellus Fire Department is asking Marcellus residents to vote in favor of a service award program for its volunteer firefighters. The service award is a defined contribution program that allows a volunteer firefighter to collect $700 a year for up to 40 years based on a point system.
The service award is part of a New York State program created in 1989 that allows local municipalities to establish and sponsor a pension-like program to reward volunteer firefighters based on length of service. Its purpose is to help retain and recruit volunteer firefighters — something the Marcellus Fire Department, along with many local volunteer fire departments, has struggled with.
"I think this is the best thing we've had," said Larry Abrahamson, 70, who is one of the oldest active Marcellus Fire Department volunteers. "Hopefully it will be a way to keep more people, and more young people. We want to encourage people to get involved and get people in."
The Marcellus Fire Department would be one of the last fire departments in Onondaga County to implement the program. The only other fire departments that do not currently have it are nearby Borodino and Spafford.
"This program has been proven to work in neighborhood departments with recruitments, transfers and retention," said Dave Card, assistant fire chief and chair of the reward program committee.
The Marcellus Fire Department held a public hearing July 25 to convince the public of just that, and to give them a chance to voice their opinions on the program. In doing so, Card gave a PowerPoint presentation on the program and left the floor open at the end for any questions or concerns.
To be eligible for the award, volunteer firefighters have to earn 50 points each year that they are active with the fire department, Card said. The points are earned through service such as responding to fires, training, performing public education and serving as an elected or appointed officer of the department — all of which count toward a different amount of points.
(Continued on Next Page)
Prev Next
Vote on this Story by clicking on the Icon