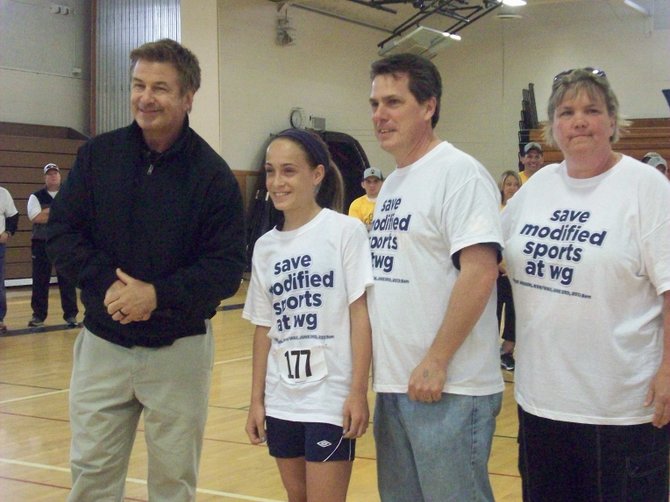 Camillus — More than 800 people came out to show their support for West Genesee modified sports, including the star of NBC's "30 Rock," actor Alec Baldwin.
West Genesee High School hosted the first annual Save Modified Sports Run/Walk on Sunday, June 3, at 9 a.m. Participants could choose between a 1.5-mile or 4-mile route, and were able to walk or run.
The run/walk was followed by an indoor softball game between Camillus Middle School and West Genesee Middle School faculty members. The CMS team won 6 - 4.
The fundraiser event was developed in order to raise enough money to allow middle school students to continue playing modified sports. Budget cuts threatened to cut the number of students who could participate in these sports from 600 to 300, said Jane Baldwin Sasso, member of West Genesee Modified Sports Booster, Inc. and sister of Alec Baldwin. The district was faced with the challenge of raising $75,000.
Sasso said it is immensely important to keep modified sports in the district.
"Three-hundred middle schoolers that don't play a sport are going home to a house without parents, to a television, to trouble, Internet, X-box — I want them playing," Sasso said. "We have such incredible coaches at our middle schools, and they should be in front of those people. They're a good influence."
Before beginning the softball game, Alec Baldwin spoke candidly to the people packed in the gymnasium. For Baldwin, supporting his sister and West Genesee's modified sports was a no-brainer.
"If my sister, Jane, had two sons who were not hockey players, and they were science freaks, we would all be here dissecting frogs," he joked.
Baldwin was supposed to throw out the first pitch, but said he threw out his shoulder and was not able to do so. He welcomed seventh-grade West Genesee Middle School student Grace Schnorr to take his place on the mound.
(Continued on Next Page)
Prev Next
Vote on this Story by clicking on the Icon