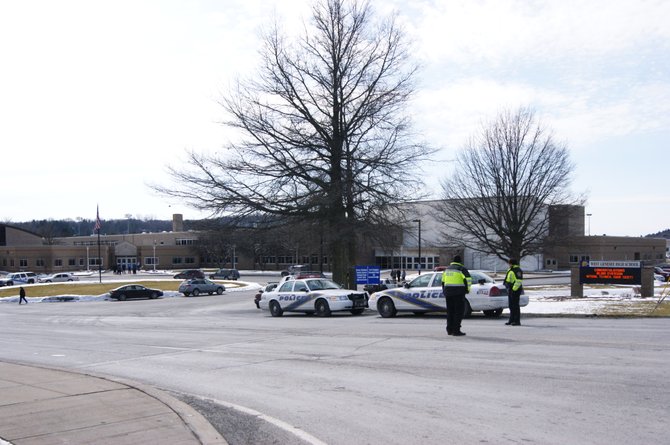 Camillus — West Genesee High School officials have confirmed a bomb threat has been called into the school.
Students were evacuated from the school around lunch after a bomb threat was reported to the school, superintendent Chris Brown said. Students were evacuated from the school as a precaution and were left outside for "about five minutes," Brown said. They were then taken to warm buses as attendance was taken and police began sweeping the school.
Parents waited in nearby Lowe's parking lot for their children to be released from school. Any student who walked or drove to school were released. Students are expected to be allowed back in the school for personal belongings, like car keys or coats, once police finish sweeping the school to determine if there are any hazards.
The school's 1,650 students were all released early. After-school and evening activities were also cancelled. Brown said staff plan for events like these. He immediately posted information to Twitter. Emails to people signed up on the School News Notifier and the Camillus Police Nixle page were also sent out.
Camillus Police, Fairmount Fire Department, the Onondaga County Sheriff's Office, New York State Police and Syracuse Police's K-9 units responded to the school.
"We are doing a criminal investigation to determine who is responsible for the bomb threat," said Camillus Police Chief Tom Winn. "We are using all of resources at the Camillus Police Department to locate and apprehend the person because of the disruption caused to students, faculty and the community."
Because of the ongoing criminal investigation, Winn will not comment on how the district or police learned of the apparent threat.
"Look at the volume of resources we are using to make sure the building is safe and to apprehend the person responsible," Winn said.
The district does have security cameras in the high school.
Follow Brown's feed for the latest: https://twitter.com/cbrownwgcsd
You do not need a Twitter account to see his latest posts.
Vote on this Story by clicking on the Icon