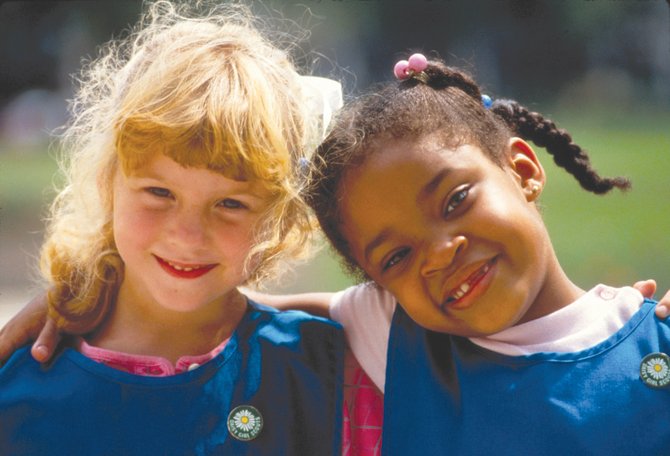 Cicero — Fran Montagne hoped her four daughters would be Girl Scouts because she had enjoyed the experience in her youth.
"I really wanted my daughters to experience the diversity, camaraderie and civil service that this organization offers," Montagne said. "Each of my girls participated from the Daisy level up to Juniors in sixth grade."
Montagne has fond memories of all of her girls' experiences in Girl Scouts that rival her own.
"I have wonderful memories of trips to Washington, D.C., Philadelphia , Niagara Falls and Cooperstown, to name a few," she said. "Camping was always another favorite… I also really enjoyed community service. The girls really seemed to enjoy this as well."
Now that the organization that brought Montagne and her daughters such joy over the years is about to celebrate its centennial, the Liverpool nurse had only good things to say about it.
"The 100th anniversary — hard to believe," she said. "Congratulations Girl Scouts! And thank you to all those amazing people who keep it going. It is a commitment of time and energy, but well worth the outcome."
From humble beginnings
The Girl Scouts have grown significantly since their first meeting in the Low mansion in Savannah, Ga. on March 12, 1912, where topics covered ranged from caring for babies to securing a burglar with eight inches of cord. The meeting was headed up by Juliette Gordon Low, known colloquially as "Daisy," who believed that all girls should be given the opportunity to develop physically, mentally, and spiritually. With the goal of bringing girls out of isolated home environments and into community service and the open air, she created the Girl Guides to offer them the opportunity to do just that. Under her guidance, those first 18 girls hiked, went on camping trips, learned how to tell time by the stars and studied first aid.
(Continued on Next Page)
Prev Next
Vote on this Story by clicking on the Icon