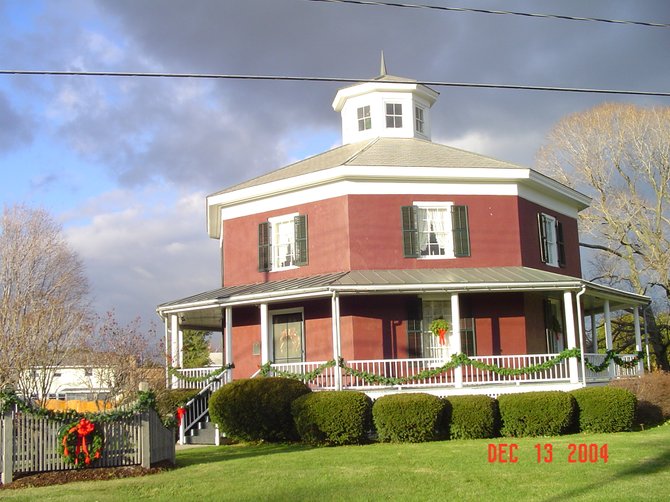 Camillus — The Octagon House of Camillus will hold its annual Holiday Open House from noon to 4 p.m. Nov. 17 and 18. A community event where there is something for everyone, it helps start the holiday season in Camillus.
Raffles are the main attraction of the weekend. The first floor is filled with decorated trees, wreaths and wall hangings for all to view and buy tickets to win. Area businesses, local residents and friends of the Octagon House donate their time and talent for the raffles. There will be 30 items featured for the raffle this year, mostly trees, decorated in holiday themes.

During the two-day event, Grandma's pantry is brimming with succulent baked goods ready for your Thanksgiving table and made especially for this event by area bakers. People can sit and relax in the lower 1856 kitchen with homemade pie, chili and cookies for the kids, giving everyone a time to relax and visit with friends and neighbors.
Children's stories will be read by a volunteer from Maxwell Memorial Library from 1 to 3 p.m. Saturday. Santa will be at the house from 1 to 3 p.m. Sunday to visit with children. Pam Poulin will play the house organ from 1 to 2 p.m. Sunday and The Village Singers will carol through the house from 2 to 3 p.m. Artists and craftsmen will display and sell handmade creations of tole-painted giftware, watercolor paintings, unique shell creations and holiday arrangements.
The house, built in 1856, is on the National Registry of Historical Places and is one of a few of its kind on the United States' eastern coast. Unique to this house is the central staircase that travels through five floors and up 62 stairs to the cupola where you can view all of Camillus. Many of its features, which are octagonal and built to unique specifications, have materials harvested from the farm itself. Restored rooms on three floors and a gallery of displays on the second level provide insight into how the original owners lived during those times.


The Octagon House is open to the public for guided tours from 1 to 5 p.m. Sundays from April through December. Town of Camillus residents may use the house for special occasions, and organizations or groups can book tours. There is a visual tour for viewing on the main floor for visitors who cannot travel through the house, and the house is accessible. Interested parties may call 488-7800 for more information.
Vote on this Story by clicking on the Icon