Camillus — A longtime public servant in Camillus is being honored with his own trail at Camillus Erie Canal Park.
The Camillus Erie Canal Society Board of Directors will name a new trail the Clyde Ohl Exercise Trail after the man who is leading the effort to build it — and in recognition of his many community achievements.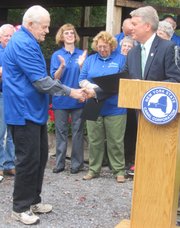 Clyde Ohl has volunteered at the park since the 1970s. "I started about 40 years ago and then took about 10 years off, but I've been pretty active within the last 20 years," he said. He's a retired West Genesee School District teacher and principal, has served as both Camillus village mayor and town supervisor, and held office as an Onondaga County legislator. He also writes a bi-weekly column for the Observer called "The Good Ohl Days."
"It's really a great honor to have him with us, and I'm really glad that his idea can be implemented," said Liz Beebe, who co-directs the park with her husband, Dave. "And it's coming along."
Thanks to hours of planning by Ohl and fellow park volunteers Tom Kehoskie and Gary Tyler, the park received a $3,200 Central New York Community Foundation grant to purchase the supplies needed to line the trail with 10 exercise stations. The mile-long trail located behind the Sims Store — also known as the park's "berm side" — has already been cleared.
"We feel by having it over on the berm side that it gives another perspective of the park," Beebe said. "It really is an area that has been underused."
Each station will offer two different exercises, and the equipment will be mostly handmade by park volunteers. "One thing is going to be a balance beam, another is a step up," Ohl said.
He said the goal is to "add to the overall facilities of the trail" and "just to make it more attractive for people that are hiking along the path."
"I think it really adds to the diversity of what can be done in the park," Beebe said. "Instead of just walking along the trail, this can really be a great addition and a point of interest — and a way of really knowing that all the parts of your body are being tested and challenged."
Park volunteers will be building and installing the equipment on Nov. 18, 23, 24 and 25. Anyone interested in helping out is asked to call Dick Scheutzow at 382-0686 or Mike Sims at 415-8199.
Vote on this Story by clicking on the Icon