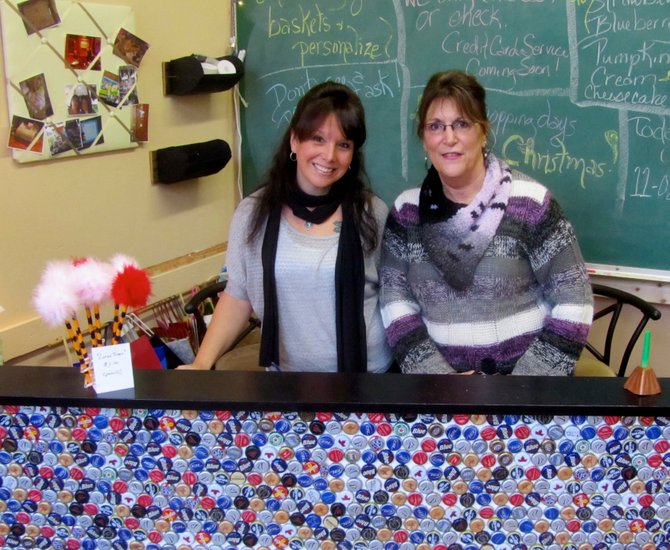 Jordan — Linda Boehm is thrilled to be part of a growing community of women business owners in the village of Jordan.
She and Danielle Karlik are co-owners of the repurposing store Da-Li Hodge Podge, which opened at 3 N. Main St. last month. It's one of 13 businesses being run by women in the small, but historic, village.
Boehm is the village clerk while Karlik is the deputy clerk for the town of Elbridge. But that's not how they became close friends and eventual business partners — both are members of the Erie Canal Cloggers dance troupe.
"I have been part of this village since 1978 both living and working," Boehm said. "Now to become a part in a whole different way is exciting. Danielle and I have a blast together and our minds are constantly thinking of new creations."
"Having a business, it's a little nerve-racking, but it's exciting too," Karlik said. "I don't think a day goes by that we don't come up with a brand new idea and call each other and say, 'Hey, listen to what we have to do tonight, because I have this great idea.'"
Boehm and Karlik will repurpose most anything. They've turned ripped jeans into aprons, and pockets from jeans into cases for emergency car kits, which are growing in popularity among college students. Their store is filled with their own creations as well as the crafts and artwork of many local residents.

"You could really call it a 'Pinterest' store," Boehm said, referring to the social networking craze described on iTunes as "a tool to find your inspiration and share it with others." Da-Li is certainly that for the two new business owners and their many vendors, which include photographers, painters, soap makers and more.
Boehm said the idea for Da-Li — which is named after the two ladies — came to them when they were decorating for her niece's wedding reception. "And then we started doing some craft shows together, and then someone came to us with a place available for rent, and everything just fell into place for us," she said.
(Continued on Next Page)
Prev Next
Vote on this Story by clicking on the Icon