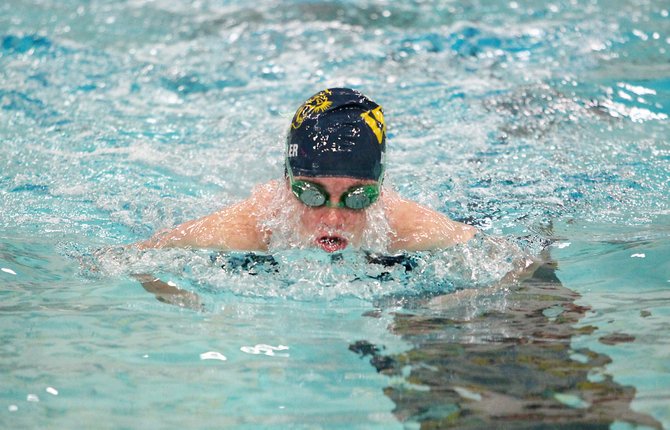 Camillus — All season long, as the West Genesee girls swim team steadily accumulated victories, one opponent - Baldwinsville - loomed above all others, for it was building its own perfect mark.
And when the two undefeated rivals clashed Wednesday night in Camillus, the Wildcats, especially Olivia Castro, were ready for the challenge, and proved it by beating the Bees 95-83.
Sure, it was WG's 23rd consecutive meet win, but more importantly, it secured another outright CNY Counties League regular-season championship.
Castro's big day started with her appearance in the 200 individual medley. By that point, B'ville had won the opening 200 medley relay (1:57.90 to the Wildcats' 2:01.64), only to have Becca Kanoza answer by winning the 200 freestyle in 2:10.50.
Now, in the IM, Castro steadily pulled away from one of B'ville's top performers, Charis Parker, finishing in a season-best time of 2:17.93, beating Parker (2:23.10) by more than five seconds.
But the real showcase for Castro would come in the 100 freestyle. Pushed by teammate Brianna Smith, who was second in 56.33 seconds, Castro tore to a time of 53.35 seconds, the best in Section III this fall and also a WG pool record, breaking the mark Emily Murphy established eight years ago.
Just to cap things off, Castro, teaming with Smith, Sinead Guy and Kaitlin Dunning, tore to a victory in the 200 freestyle relay in 1:44.99, nearly 10 seconds ahead of B'ville (1:54.10) and adding to the hosts' cushion.
Just as important was the work of Shannon Cohalan, who fought off the Bees' Allie Connor, 1:03.70 to 1:05.20, in the 100 butterfly before she took the 100 backstroke in an even closer race, recording 1:05.58 to edge B'ville's Samantha Sidorakis, who was second in 1:06.24.
WG went 1-2 in diving, thanks to Michelle Cassidy (131.10 points) and Daryl Corcoran (123.55 points), gaining more vital points. Smith, in 25.90 seconds, beat Martin (26.50 seconds) in the 50 freestyle, while Abby Mullett was second in the 500 freestyle (5:49 flat) and Erin Dowler was second in the 100 breaststroke in 1:13.58.
Vote on this Story by clicking on the Icon