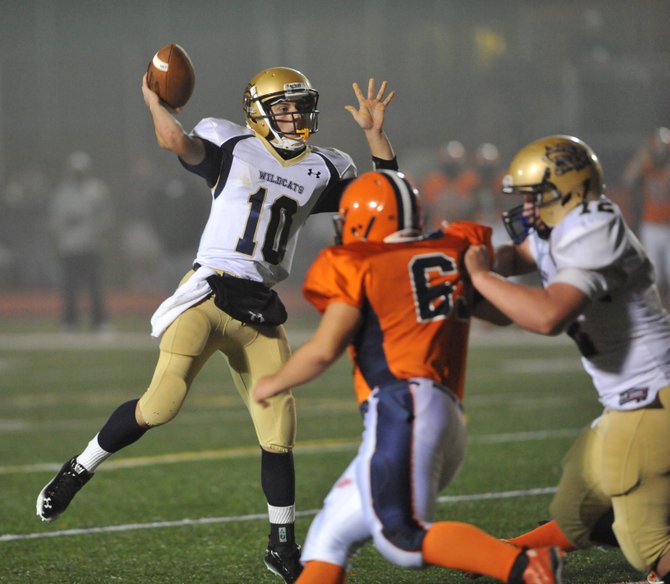 Liverpool — Just in time, West Genesee's football team found the magic formula of clutch performance that served it so well when it won the Section III Class AA championship a year ago.
After a season full of close, frustrating defeats, the Wildcats stepped up down the stretch in Friday night's foggy opening-round playoff game at Liverpool, scoring twice in a 41-second span late in the fourth quarter to eliminate the Warriors 36-25.
"The kids kept playing hard," said head coach Joe Corley. "No one gave up, and we made plays and avoided costly mistakes."
"We finally put a full game together," said senior quarterback Dan Ginestro.
And because of that, WG (4-4) gets to return to LHS Stadium next Friday to play the Class AA semifinal against unbeaten (8-0) Christian Brothers Academy, who pulled away late to beat Utica Proctor 56-33 in its opening-round contest. Game time is 5 p.m.
That sense of resilience by the Wildcats, tested by an up-and-down regular season that included losses to Clarence, Fayetteville-Manlius and Henninger by a combined five points, was fully needed against Liverpool, for in many different instances events turned against WG.
Leading 15-7 with less than two minutes left in the first half, the Wildcats squandered that lead, allowing Trevor Monk to kick a 30-yard field goal and, after a bad possession and poor punt, seeing Jeff Edwards catch a 37-yard pass near the goal line and score from the one on the final play of the half.
Then, early in the third quarter, Naesean Howard fumbled at Liverpool's four-yard line, and the Warriors recovered, promptly marching 96 yards, all on the ground, to stretch out its lead to 25-15 as Anthony Miller scored from three yards out.
Howard atoned with a series of long runs to set up a nine-yard TD sprint late in the third quarter, and he also ran in for two points, making it 25-23 going to the final period.
(Continued on Next Page)
Prev Next
Vote on this Story by clicking on the Icon