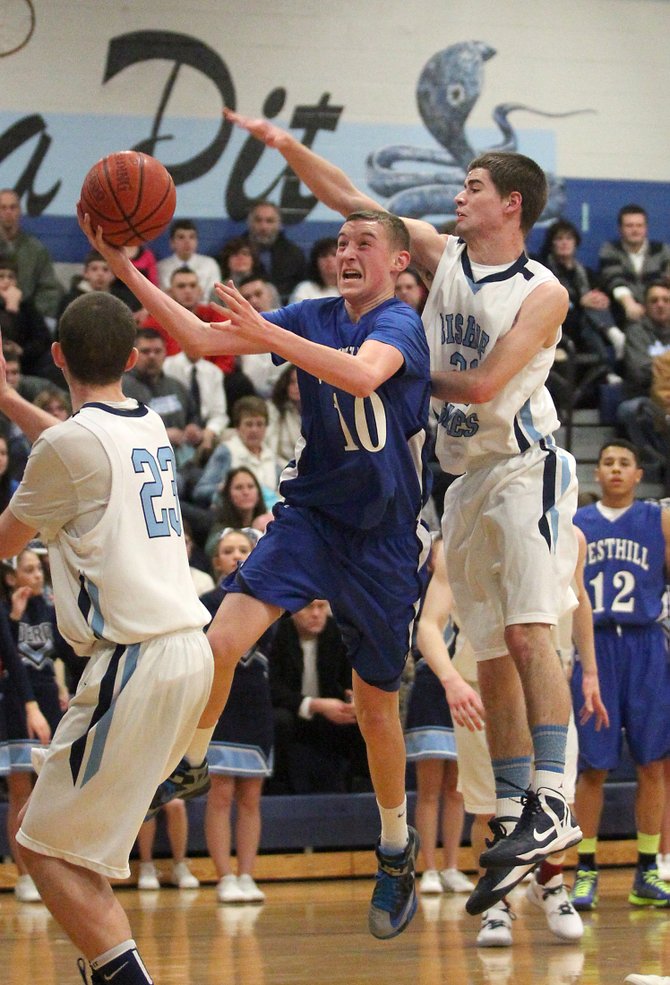 East Syracuse — It may be another week, and even another year, but it's the same Westhill boys basketball formula for success - something that Bishop Grimes found out in an up-close and painful manner.
The Warriors went to East Syracuse Friday night and, mirroring its stunning win over Bishop Ludden the week before, relied on physical, in-your face defense and timely baskets to beat the Cobras 55-44.
By doing so, Westhill took over first place in the OHSL Liberty National division and improved to 7-2 as it hid the midway point of its regular-season schedule.
Grimes entered the game with a 6-1 mark, but had not played a game in two weeks, since beating Chittenango on Dec. 20. And it picked the wrong opponent to try and find its rhythm again.
What put the Cobras into a 13-10 first-quarter lead was hot outside shooting, as Joe Arrigo connected on a pair of 3-pointers, two of four he would hit on the night as he would finish with 14 points.
But the second period set the tone for the rest of the night. Playing man-to-man defense, Westhill wasn't afraid to be physical, both inside and outside.
On the perimeter, a rotation of Warrior guards kept getting into Casey Evans' face, and he would go without a point through the entire second and third periods. In the paint, Jackson Haber, Dan O'Connell and Tyler Reynolds led the push, holding Tom Steinberg to just two points.
Kevin Karleski and Jordan Roland did more than guard well. They combined for 11 points in the second quarter and helped hold Grimes to just four, the Warriors grabbing a 23-17 lead at the break.
The Cobras fought back and tied it, 33-33, just before the third period ended, led by Jon Carnegie, who had six of his eight points in that frame. But Grimes' top forward would not score again as the Warriors now shut him down, too.
Down the stretch, Westhill turned to Reynolds. All eight of Reynolds' points came in the fourth quarter, including a big 3-pointer with less than five minutes left, just seconds after Arrigo's 3-pointer cut the Warriors' lead to 41-38.
Westhill outscored Grimes 22-11 in that final frame. Roland, who didn't have a point in the first quarter, finished with 18, while Karleski augmented his terrific defense with 12 points. Jake Redmond contributed six points.
Vote on this Story by clicking on the Icon